This post may contain affiliate and ad links for which I earn commissions.
For strange reasons, it can be tough as an internet marketer to find productivity software for Mac. I don't really understand this fact, because many people, who deliberately pick a Mac, do so to gain time and get more things done.
One huge time consumer is submitting articles to different article directories, and to date, I haven't found a Mac programme that could help me do so.
However, I discovered that I could use Linkable, which is a free service online, to help me save loads of time, when I submit articles. You can use it both for a Mac, or for a PC with either Windows or Linux as operating system. This is how you do.
Open up a browser, and go to all of your favourite article directories. Use one tab in the browser to each directory, and leave them all open.
Now go to Linkable and join them. It's free.
Linkable is a bookmarking service, but you can use it for much more than that. Here's just one of the great ways, I found, I could gain time by utilizing it.
After you've joined Linkable, grab their Save to Linkable button, and drag it to the bookmark bar of your browser.
Switch to the first tab with an article directory.
Click on Save to Linkable, and just save directly on your index site in Linkable. You can – and will – change that in a short while.
Repeat this for all the other tabs with article directories.
Now go to Linkable again, and click on Add Category. You can put it on your Privacy Tab, if you like. Nobody else would then be able to see your links. Choose a nice name for your category. It could be something extremely creative like "Article Directories".
This is how it can look: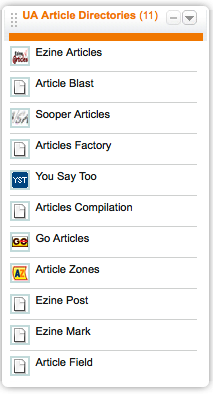 In your notes, you can add usernames, passwords (if you dare… it should be safe, but you never know), and even categories, you usually post your articles under.
By having all of your article directories easily at hand, you save a lot of time, writing out the URL's or even searching through your notes for the article directories, you usually post to.
So as you can see, Linkable is not only productivity software for Mac, but for every kind of computer that has an internet connection.
Click here to join Linkable for free.