This post may contain affiliate and ad links for which I earn commissions.
One marvelous app covers it all–both your needs for a checklist app for almost all possible operating systems. And your needs to organize and keep track of stuff.
Two extra pluses: It comes in a free and a pro version, and it's super-easy to use.
Bullet Point System
Several years ago, I found a system called WorkFlowy. It was simple to use… You wrote a word or a sentence, and it would automatically be shown with a bullet next to it. You hit enter, and you had a new line, starting with a bullet.
I used it for a long time to make checklists and to keep track of courses, review access, and more.
Unfortunately, I found it to be hard to overview after a while, because it was all shown in one big and very long page.
Here's a picture of part of what I had on WordFlowy…
See what I mean?
They have since changed it, so you can see headlines like menu items on the left side of your window, but still…
Then I discovered an app called Dynalist.
It does everything WordFlowy does and a lot more.
I love that I can make folders, use color codes, make real checklists, and a lot more.
Checklists
Let me show you how I use it for checklists.
As you can see, Dynalist has a bullet point, but it also offers a box to make it look more like a real checklist. You can decide just to click to check the field, or you can use the shortcut (Ctrl+Enter) to mark a point done.
Folders and Colors in Dynalist
I love that you can organize your lists in folders.
I have folders for:
Product access (access info for courses I've bought)
Checklists
Planning
And a lot of other stuff
And for even faster overview, I can add bookmarks and see the bookmark window instead.
By the way, I use the desktop version, because I prefer that, but you can use an online version in your browser instead.
Desktop versions exists for Windows, Mac, Linux, iOS, and Android, and the app automatically synchronizes, so you can work from your home computer one moment and take a walk and still see your checklists and bullets on your phone or tablet the next moment.
Use Color Labels for Easy Overview
I love that you can add colors to the bullet points for easier overview.
In the following example, I've used Green to mark something that should be done only once during set-up, and blue for repeated processes.
I could have used more colors, but two was all I needed for this checklist.
Another thing is that this particular checklist is partly one I use myself, partly one I share as a bonus for people who buy Erica's course through my link. I can share it in different ways, one of them being a checklist they can import and use directly from their own Dynalist.
Nice, right?
This is how it looks on my Android phone.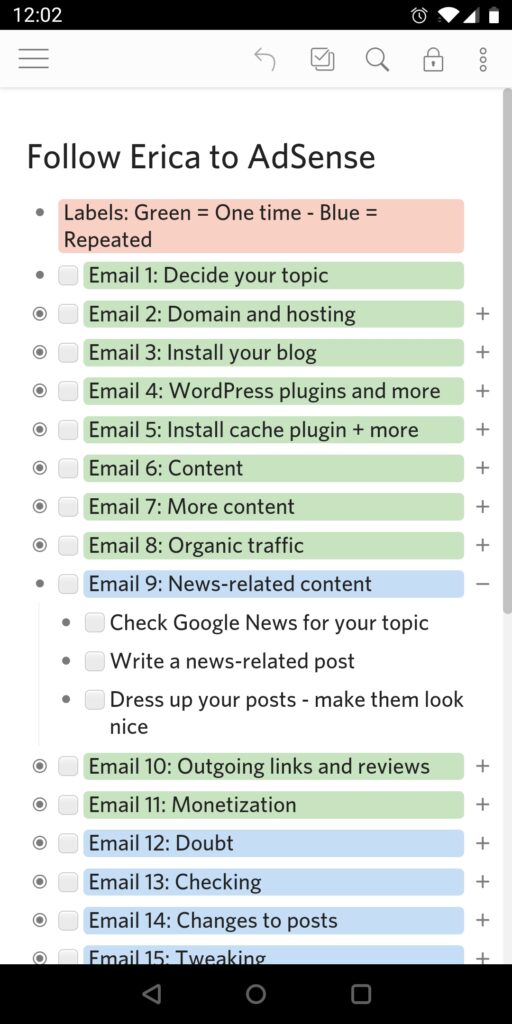 I really love working with this app. It's one I use daily.
It helps me keep track of things plus makes me more productive.
The checklists help me make sure I know what to do and when. They help me make sure I don't skip a step.
And keeping everything in that app makes it a lot easier to find the information I need, when I need it.
See This Checklist App in Action
I made a YouTube video that showed 8 of my favorite tools, and the first I mention is Dynalist.
You can see it in action here:
Where Can You Get Dynalist
You can download the checklist (and more) app for Windows, Mac, Linux, Android, and iOS here: