This post may contain affiliate and ad links for which I earn commissions.
"We have terminated your account with us in accordance with our zero tolerance abuse policy. This decision is final and will not be reversed."
That was the content of the shocking email that was waiting for me in my mailbox early morning, August 23rd 2020.
We started to use Hostwinds as a web host in January 2020, and at first, at least in the period where you can get a refund with no questions asked, everything seemed fine. We started by having a lot of hopes for them and Britt even asked to become, and was approved, as an affiliate.
But let us start with the beginning…
Finding a good web host is a hard task
We have several domains. Some are hosted on shared servers, others are hosted on a VPS (Virtual Private Server). VPSs are supposed to have (and often have) better performances.
Our VPS is on Hostgator, and we are not satisfied with them (they still use an outdated version of PHP that soon won't work with our autoresponders). But before we buy a VPS, we want to test the host with a shared service for our other domains to see if we can trust them with our VPS.
It is very difficult to find a decent host, and the net is full of false reviews, false features, etc. One of the hosts we tried wrote in the description that we had "unlimited e-mail addresses" when in fact the number was limited. They almost all promise you "99.99% uptime" but you can't verify it. In short, it is very difficult to find something you're happy with.
We had a few hosts we were thrilled with, like WiredTree and A Small Orange, but they got bought by Liquidweb and by Endurance (Hostgator) and then they were no longer good, so we had to move.
Picking a bad web host is costly: Too much downtime can make you lose customers. A slow server, same thing. If your host has a bad reputation, and their IP-addresses are registered as a spammer-IPs, then your emails won't reach your customers… Hence the importance of choosing the right web host.
Hostwinds
We found Hostwinds after reading an article where they were mentioned as a good web host. The guy who wrote the article didn't use them himself, but he thought they were fine. The sales page looked okay. We asked the pre-sale department a couple of questions with things important to us (also so we were sure to buy the package that would be best for us) and everything was fine.
So we thought: "Well, let's give it a try."
And so we did.
We bought a business-plan because we have several domains and several blogs and we don't want to worry about space on the drive, numbers of domains, databases and such. The business plan cost $18.99 per month but you save up to 53% first time, so we bought for three years at once for $253.17.
The first couple of weeks were fine, no problems.
But then it began.
When we sent emails, we didn't receive any replies.
Of course, we don't receive replies to all of our emails, but we do receive some replies.
Here, nothing.
Then, some emails we received were delayed from 30-40 minutes to several hours.
It took us a while to find out of what was happening and several discussions with support because the technicians used for support don't seem to be as good as the technicians used for pre-sale!
For example, we wrote to support that some emails went fine through, but some others, for example, from this or that email address either never arrived to us or were very delayed.
Okay! Support said: I just tried to send these two mails with Gmail, and it worked fine.
Yes, the mails delayed weren't from Gmail.
Okay, what email program are you using?
The Bat! But the mails aren't in the webmail either. They are delayed.
Support installed The Bat! and Thunderbird and messed around with that and Gmail… Anyway. It seemed impossible to make them understand the problem.
Then, when they finally, after several hours, understood it: There is nothing to do about it, they said. The delay stems from the other person's server.
Actually, no. We kept on looking and it came from Hostwinds. As a standard, on a newly made account, Hostwinds uses "greylisting."
According to Wikipedia, "Greylisting is a method of defending e-mail users against spam. A mail transfer agent (MTA) using greylisting will 'temporarily reject' any email from a sender it does not recognize."
So there was our delay.
But not one of the different supporters we talked to knew that. They didn't know their own system, clearly.
I could show more examples of incompetent support, but we don't need more examples before the one that trumps them all.
Then we found out that several of the emails we sent were marked as spam and never reached their destination.
We discovered that the IP we got from Hostwinds had been used for spam and scam and was blacklisted many places.
Hostwinds hadn't done anything about it so the IP was still blacklisted (maybe there is nothing they can do about it? I don't know).
So we asked if we could get another IP. Every customer not receiving our emails is a potential loss of money.
Oh, yes, we could… They could help us buy another (meaning we had to pay because they gave us a blacklisted IP) but then they "couldn't guarantee" that this new IP-number wouldn't be blacklisted as well.
We have been customers of several webhosts. That was the first time we had such a problem (a blacklisted IP) and it was definitely the first time we read that they couldn't guarantee that the other IP wasn't blacklisted as well… Don't they check this kind of things?
We figured that after a while the IP would no longer be blacklisted, so we kept it rather than switching to another one that perhaps was freshly blacklisted.
Since we had the business-plan with an unlimited number of domains, we continued to move our blogs from Hostgator to Hostwinds.
But then: Problems.
Quite often, the blogs were slow, and the blogs went down with a 503 error.
Sometimes, it was enough for one of us to go to the administration panel of a blog to use all the available resources, and all our blogs went down.
Little by little we found out of where the problem was: Too little RAM: We had 512 MB RAM for our "unlimited domains"… So of course, there wasn't much that could be done on such a mini-server.
Business-plan?
Hostwinds uses Litespeed technology, which is a good thing.
But they don't give the users the possibility to turn on Memcached and Redis in the settings, so you can't use Litespeed's own cache system (it is an addon for WordPress made by Litespeed which works with Litespeed's server).
Not only don't they give this possibility, but they won't do it if you ask them, because they would have to turn it on for everyone on the shared server.
Well… How terrible would that be that everyone could use Litespeed's cache on a Litespeed server, speed up their blogs and use less resources?
So we went to try to find a new host for our most important blogs because we couldn't have slow pages which would go 503 any moment. We found one we are extremely satisfied with. But it is not the point of this review.
What is important is that we moved our most important domains out of Hostwinds' hell, and that was the best thing we ever did. Otherwise, we would have been in very bad situation right now.
Let's go phishing…
Last Thursday, the 20th of august 2020 (for us, it was the 20th, for the US it was still the 19th) we received a strange mail from Hostwinds. It said:
Netcraft
Now… the email points to one of our domain: malka.icu and to a page Hostwinds obviously uses when they suspend a domain and that you can find in the domain's cgi-sys folder: suspendedpage.cgi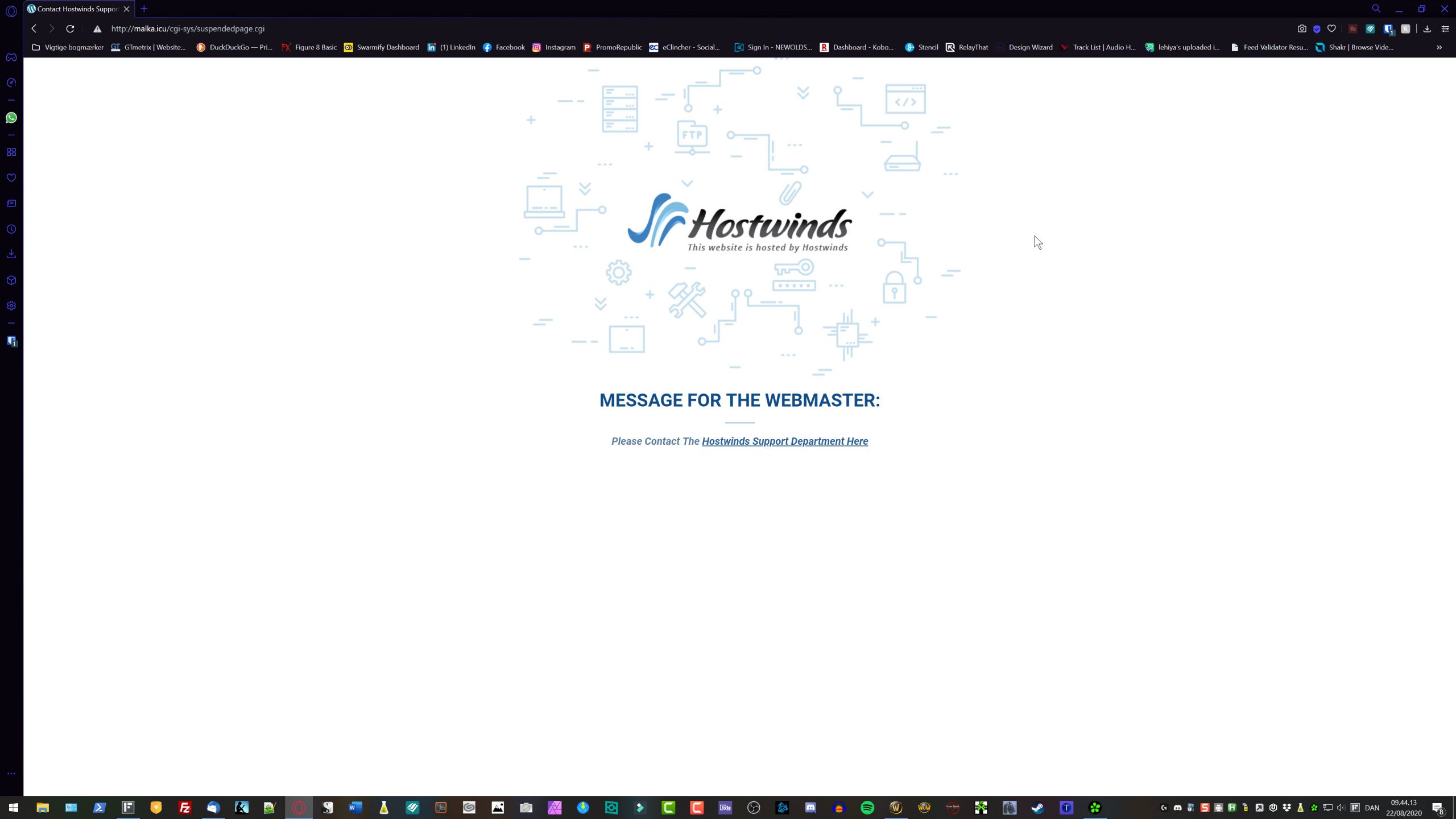 How could this page be "fraudulent" or "mimicing cryptocurrency" and stuff like that? Dunno!
Of course we contacted support, telling them that we hardly use this site (since their hosting sucks and we don't host our important pages there anymore, but we didn't write that) and that everything looked normal there.
We checked all files for all domains to see if some were hacked or something. Everything seemed normal.
Support wrote that they couldn't see anything active on this page and after a scan, they told us that there wasn't any phishing page on our sites.
Pfew! Then we haven't been hacked! It has happened a couple of time before (especially back then when we wrote our PHP ourselves) and it is never a good thing. It can take weeks to get over it.
The following day: One more time, the exact same email.
What the… Do we have to get this email every day? We asked.
No answer.
And then, Saturday morning, this message was waiting for me in my mailbox:
"We have terminated your account with us in accordance with our zero tolerance abuse policy. This decision is final and will not be reversed."
Needless to say we got quite annoyed. We had paid $253.17 for the hosting. Cheap for three years, but very expensive for 7 month of service ($36.16 per month) for a host with half a Megabyte of RAM for their "business account", support who doesn't know its job, blacklisted IPs and people ready to cut you off all your domains and terminate a contract for something that you never did and for a file that was never there.
What was worse was that they had actually blocked our access to our files. So we couldn't access our files, our domains, nothing.
Happily for us, none of the domains hosted on Hostwinds are important since they are so unreliable, but still.
So we asked for:
An apology (that is the least they could do)
Access to our files since these are our property and we need to be able to download them.
A refund for what we've paid for the periode from September 2020 to January 2023.
We asked for them to start at least within 24 hours.
Several times, support answered me that the decision to terminate our account was final and they couldn't do anything.
Several times we answered that we weren't interested in them "reinstating us" since we never would be able to trust them again. We just wanted: an apology, access to download our files (we don't care whether they can be seen from the outside, we just want to be able to get access to them) and then the refund.
The 24 hours have gone, nothing happened.
Then, several hours after deadline, the very laconic email:
"Our management has lifted the suspension on your account. I am running a malware scan on your account just to make sure there are no infected files.
Please standby for further updates and we thank you for your patience."
No apology. And everything else have been ignored. I guess the idea is, that we should be very happy to get "into the fold" again.
I guess we can forget our refund (it is too late for a PayPal dispute), apology, etc.
Oh, yes! One more thing… The "technical" department found "Malware" on three of our files from our archive…. "wp-pass.php"
They are not used anymore since WordPress uses another method, but it is not malware.
We had to explain to them that these weren't malware but files used for creating a password cookie and redirecting back to where the visitor was before. Again total incompetence from support and their "technicians".
We have the luck of having be programmers and teachers in this field for years and we have some technical luggage. But if you have not. If you are a customer like most: Trusting the hosting company (which is quite logical) and with little to none technical knowledge, then, with such "support", you will quickly been thrown off and drowned without knowing what is happening.
Incompetent technicians and incompetent host, like Hostwinds, can totally smash your business.
Oh, by the way, few hours later, the "technician" wrote back:
So now, we are downloading our files, moving our last domains to another and more reliable host.
Here are the lessons to remember:
Never choose Hostwinds.
Before choosing a host, make sure to read real reviews by people using that domain hosting. Not reviews with affiliate links.
Check places like TrustPilot. They have hosts too. And if you do so for Hostwinds, you will notice that TrustPilot actually is checking them because some positive reviews seem very fake (and it is a fact, many five-stars reviews are very, very weird).
Remember: What looks good on the surface isn't necessarily good.
And check for what they are NOT saying. It's a good idea to make a list of things you want from a host (like Cronjobs every minute, enough storage space, enough RAM, etc.) and then ask support about the things from your list that is not mentioned on their site.