This post may contain affiliate and ad links for which I earn commissions.
When you establish yourself as the ONLY honest and open marketer, it's a problem when somebody is asking questions you don't like.
Not a big problem, of course, because if you receive those questions in your Facebook group there's an easy way around it:
You kick the member out.
Yes, that's what happened when I asked questions to Brett Rutecky.
Brett Rutecky is branding himself as the "only" source for the honest truth about Internet marketing, making the rest of us a bunch of liars. Such behavior is often seen used by cult leaders, so that their members know they should listen to no one else.
Lately, Brett has teamed up with Mike from Maine and created a couple of products. I've reviewed and promoted the ones I found fitted my list.
In one of them, Brett kept criticizing Mike's way of doing things. I found that odd, but Mike didn't seem to have any objections. Not in public at least.
A couple of weeks ago, Mike contacted me about a new product that's launching August 19th. A new auto-responder, created by the one and very only Brett Rutecky.
That sounded interesting. I've recently switched from arpReach to NuevoMailer, but some of the more advanced features in that mailer might be too hard to use for beginners, so I asked Mike a number of questions about Mail It, the new mailer.
Mike replied to me that I should ask Brett in the Facebook thread.
That thread was about something else, so I sent Brett a private PM on Facebook instead. He never replied.
When I saw a new thread, about Mail It, in Brett's IM group on Facebook, I asked there instead, and today I wanted to see what he'd answered me.
I couldn't find his group.
Weird…
I did a lot of searching, checked all my groups, but still couldn't find it. So I asked Mike, who said: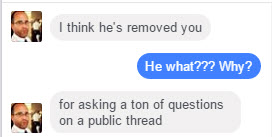 Here are the questions Brett Rutecky kicked me out of his group for asking:
Hi Brett – Mike said I should post these questions in my post, but I think some of them might be better in private. Let me know.
(I posted the above in private – in the message Brett didn't answer.)
I couldn't find much about what Mail It can do, besides send mails.
Can you help me with these questions, please?
1. Can you use other SMTP services like MailGun, SendGrid, etc.?
2. Can you tag your subscribers for segmenting, for example to show that they've bought a specific product that you don't want to create a mailing list for?
3. Can you mail non-openers, and if so – how's the procedure?
4. Can you filter the ones you send to, say, sending to List A, B, C, but not subscribers on list D (even if they are on list A), and not subscribers with a specific tag?
5. Can you both add individual new subscribers and import them?
6. Can you export subscribers, and if you can, how much info is in the csv file? Like the tags, the mailing lists?
7. Can you both do broadcasts and AR sequences?
8. Is there an API?
9. Do you offer a review copy? I've recently switched from arpReach to Nuevo Mailer that can do all of the above, but it's a bit tricky (you need to know how to do SQL queries) so I don't expect that many of my subscribers will buy Nueove Mailer, so I'm interested in something easier to promote, but which can do all those normal marketer things.
That, I Swear, Was My Crime
You won't see me promote this auto-responder the 19th. Not because I dislike the way Brett promotes himself as the ONLY honest and truth marketer (since that's a lie), but simply because I saw that you can't use it for sequences, I mean… like an auto-responder. Only for broadcasts. And especially because I didn't see a review copy.
It's not a product I would be interested in buying myself. I have a well-working auto-responder that can do all the things I asked Brett about above, plus more, but these things are bare minimums I think.
No, I'm Not Going to War Against Brett Rutecky
Seriously, I have more important things to do than playing war games. I just wanted to let you know about this, and then it's totally up to you what you make of it.
You might even feel thirsty and go for your favorite flavor of drink.