This post may contain affiliate and ad links for which I earn commissions.
Hi there 🙂 I've been blogging freequently about John Chow – in English at least since March 2007 as you can see here in "Get Inspiration: From Zero to $7,000 in Six Months", and I've always admired the way he shows personality in his blog and the way he is always present and communicates with his readers and other bloggers.
I heard about him first time back in 2007, I think. I was following ProBlogger, and some crazy guy paid for ads on that site saying "I Love Darren Rowse". Like so many others, I clicked on the add to find out who this John Chow was, and I immediately loved his crazy writing style.
Lately, I wrote a review about "Work from No Home" which was a product mostly by Peng Joon, but John Chow was mentioned on the sales page. I loved that product, but disliked the follow up by Peng Joon and wrote a review of it here: "Membership Sites Blueprint" Review – Yeah, Well…".
But when I heard that Peng Joon made a new product, this time with John Chow again, and with John Chow in the main role, I asked for a review copy, well-knowing that after my latest review, my changes would be thin.
Ha! I didn't even have to argue or anything. I got a review copy right away, and I know this sounds odd… but when I first entered the Membership Sites Blueprient member's area, there was something that I didn't like. I felt overwhelmed. But both on Work from No Home and Blogging with John Chow, I felt at home and very excited to get started right away.
So now that I snug you with me through the back door, let's get started on this first part of the review, shall we?
First Impression Counts – And How Does It Look Inside?
This is what first met my eye, when I entered the membershp area: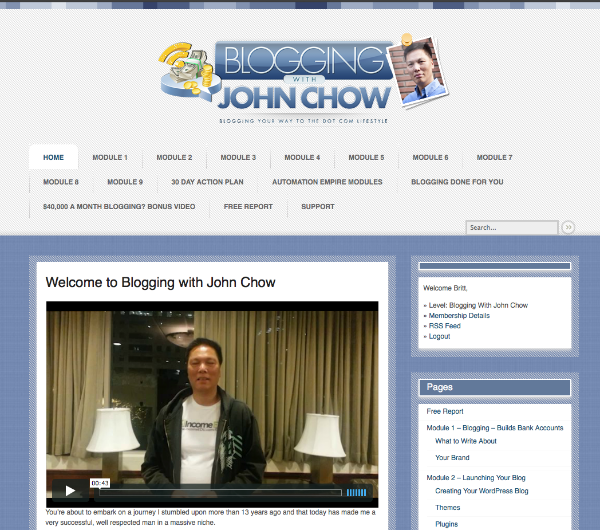 As you can see, there's a nice graphic image on top, the theme is with calming and pretty blue colors, and the modules and pages are shown on top and in the sidebar. Then John Chow bids you welcome with a short video and a text.
All that made me feel very safe and I wasn't confused or overwhealmed in any way. I knew where to start and where to go to continue. I felt sure that I could get back to this Home page, if I wanted.
Okay, so the content is divided in 9 modules, all sub-ordered in small chapters about a topic. You don't have to read a full module, if you want to stop earlier. There are short videos in some of the modules, but not all. I haven't watched them yet, so I'll have to come back to those in later parts of the review.
Besides those 9 modules, you get a 30 Day Action Plan (aaaaah, I love action plans! This made me like John Chow even more – he gave me an action plan), and a blogging-done-for-you, where you can get PLR articles and illustrations to start from and rewrite.
You also get a bonus video called $40,000 in a month which is a recording of a seminar John Chow gave.
What About the Content? How Is "Blogging with John Chow"?
As mentioned, I've been following John Chow since 2007, but he was already a blogger long before that time. He started out with a blog about a PC he build and made money with that blog, so he already knew some things about what to do and what not to do.
I know how John Chow writes, and how often he blogs etc. from the experience I've had reading his blog. And the advice he gives in Blogging with John Chow is his own experience. There is nothing hyped and nothing fake about it.
I agree with him when he says that you should write about what you're passionate about. I've been saying the same thing since 2004. And he says it for the same reasons I do: You cannot stick to writing if you're not passionate about the topic, and you're not making any money. And your passion shows in the same way that lack of passion shows. If you don't care about what you write about, your readers will not care about it either.
He puts a huge importance on the branding part, and he's right. Your topic or niche will not set you apart. Your personality will.
In case you've never installed a WordPress blog before, there are modules that explains this process and where to find a theme, plugins etc.
I get very inspired by what I read last night, and I tweeted some of the quotes (more in the buffer stack):
I had some great AHA moments while reading. The first time was when he wrote about a mistake most bloggers do (me included) and said that he had also done it in the past, but he hadn't committed it since he figured out how to make money blogging.
That thing alone is priority one on my ToDO list right now. (It's in "When to Post and How Long?" and John Chow writes: "I have fallen into this trap more than a handful of times, but not once since I have been successful in this field.")
To my knowledge, John Chow gets around everything that has to do with blogging:
How to pick your topic; 
What to write about; 
What to write about when you have no ideas; 
How often and how long;
How to setup your blog the right way;
How to format your blog posts to best serve your audience;
What time to publish blog posts;
How to network;
How to attract comments;
Branding and personality;
Listbuilding and blogging;
How to make money with your blog (I'm in the middle of this module right now);
How to write a review (I LOVED his way of doing it);
What I liked so Far about "Blogging with John Chow"
The way the member's area is setup. It makes it easy to find your way around without feeling overwhealmed by all the content.
That you can read a lot and don't have to waste time watching videos 😀
There are videos for those who prefer them.
The way things are explained.
That John Chow is no guru and gives you ethical and great advice.
That I got very inspired to really get my blogging to the next level.
What I Didn't Like so Far
You cannot copy text from the content. I wanted to make it easy for myself to paste quotes to Twitter.
That you cannot click and save videos. You'll have to use a Firefox plugin called DownloadHelper for that.
Who's this for and who's this not for
If you want to make blogging more than a hobby, and you're willing to invest money and time in the project then you would do well in getting this product.
If you're on a shoestring budget and don't have time to blog at least three-four times a week, then you wouldn't be able to gain any advantages by reading this product. Yeah, some, of course, since it's about blogging, but I think your advantages would be limited.
If you want to read the sales page and see the video by John Chow you can