This post may contain affiliate and ad links for which I earn commissions.
When I sat down to write this blog post, I thought about the introduction. I thought about how we NEED good pictures for our blog posts, or for Pinterest, or Instagram, or for book covers, or for a thousand other things, because for some reason, pictures turn us on.
It's a well known fact that except for the headline of a newspaper article, the text below the pictures are the most read text in a newspaper.
Then – for some reason – all of a sudden I remembered Steve Pavlina's blog. It has huge success, but as I remembered it, it was plain text. No images. So I headed over to his blog and what was the first thing that met my eye?
A picture on top of his latest blog post. LOL.
So I guess we can all agree to the fact that we need pictures. Period.
The question is where to get the pictures from.
As you can see, I link to a couple of places in the sidebar of my blog. One of those places are Depositphotos, and today I'm going to write a review of their service, so you can get an idea about if it's worth trying or not.
Do Depositphotos Offer Free Royalty-Free Pictures?
Ha, if you're anything like me, this is probably what you are wondering about. No? You thought how their quality was? Okay, I'll get right back to that in a moment.
Some sites who offer stock photos either offer them all for free, or some pictures for free. You can sometimes get a decent picture that way. Depositphotos do it in a different way. They offer five free stock photos daily for seven days. You have to give them access to your PayPal account, and you can cancel your subscription before any payments are made, if you don't want to stay. You can do that yourself from within your PayPal account.
How to Find Pictures on Depositphotos
One of the things I like about Depositphotos is the easiness with which you can find images.
The search function works very well. I wanted some pictures for my chanukah Facebook page, and I tried other places first. "Chanukah" is a Jewish holiday, and its a Hebrew word, spelled like this: חנוכה.
Since it's not spelled with western letters, it could be translitterated in a number of different ways, like hanuka, hannukkah, chanukkah, chanuka, and more.
And that confused a lot of stock photo sites. If I searched for "chanukah" I got some results. If I searched for "hannukah" I got other results. I had to try different combinations myself to find some pictures.
Depositphotos gave me 268 results for "chanukah" and asked me gently, if I meant "hanukkah". When I clicked on that word, I got 1,132 results.
You can also search after pictures using specific colours.
Besides using a search field to type in keywords, you can also search by category, for example Education, People, Business, etc.
Yesterday, I needed an illustration for the blog post about debt settlement, and I found a nice piece of graphic art on Depositphotos.
The Quality of the Stock Files on Depositphotos
I'm very happy with the quality of the pictures I've found here. Sometimes, I've used astonishing photograps, as for example here on my husband's blog in a series to promote his book about relationship advice. At other times, I've found vector images to illustrate blog posts.
I get the impression that the people who offer their services to Depositphotos are real pros. The images are clean and sharp, and they deliver a clear message. I've seen a few of the pictures I've found among the Depositphotos stock photos on other sites, but this is the only place I've seen such a large collection of high quality pictures.
As a user, you can rate each picture, which is a good thing. It will help maintain a high quality.
Prices – How Much Does It Cost?
You can buy individual stock photos for as low as $0.50. You do this by buying credits. 1 Credit = $1.00. Every image can be delivered in different sizes and resolution. The bigger size and higher resolution, the higher number of credits. If you just want a small picture for your blog, you can normally get it for one Credit. Depositphotos call this "XSmall", but the size is fine for blog posts. Actually, I just found one that measures 424 x 283 72 dpi labelled XSmall.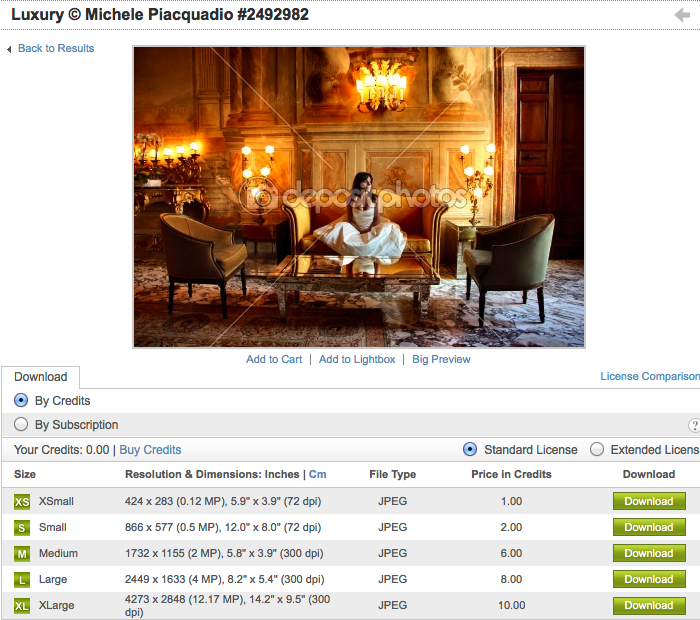 If you use several pictures per day, it's more profitable to join a subscription plan. They have several attractive offers. If you're a low-volume buyer (probably a common blogger), you can get 5 pictures per day for $59 per month. See all prices and possible combinations here.
If you join and try their seven day free subscription plan, I would be happy if you would use my affiliate link here. As you know (if this is not your first visit), I only promote products that I like.