Hi there 🙂 Don't we just live in a wonderful world filled with possibilities? Gone are the days where we needed to beg publishers to print out books. Today, we can take matters into our own hands and just do it!
We can publish for free on Kindle, Lulu, Createspace, Smashworlds, Lightning Source and even on iTunes… We have no limitations… but our own.
And I'm all for breaking them down as fast as possible.
One of the road blocks you could encounter, when it comes to publishing e-books, is the lack of knowledge about how to format the book properly.
If only the they all agreed to one standard, but no… You need one format for Kindle, another for Lulu, a third for Createspace, and so on.
As you probably know, I've published a few Kindle books and make monthly sales, and I plan to work more on this site on my business in the future. And I don't want to limit myself to Kindle, but try all the other places as well. But what about formatting? This has so far kept me from publishing on Createspace, even though it's a huge advantage to have a printed book next to my Kindle book.
Luckily, I can get started today, because I have a friend who's doing an awesome course, called "Power Publisher", and she teaches us all about how to get our books out there at the easiest possible way. Read on, to learn more.
My friend's name is Di Heuser, and she's made SO many covers and formatted so many books for top publishers on Kindle and other platforms.
If you're considering publishing a book, you should get this course, because it will save you a vast amount of money.
Take a look here: http://malka.im/e/dipp
Do you want to see some testimonials for those she's worked for? Of course you do. You don't want to invest $47 without knowing whom you have to deal with. I wouldn't. So I asked Di for more information, and she gave me among other things this link:
Testimonials for Di: http://the-nitty-gritty.biz/testimonials
She's awesome. No doubt about it. And now you can learn from her:
All the technical aspects of cover design, formatting, converting to the correct format and submitting your books for:
Week 1: Amazon Kindle (Electronic)
Week 2: Amazon Createspace (Print on Demand)
Week 3: Smashwords (Electronic)
Week 4: Lulu (Electronic and Print on Demand)
Week 5: Lightning Source (Print on Demand)
Week 6: Publishing on iTunes
Week 7: Bonus marketing and distribution tips
Doesn't that sound cool?
I must confess that I'm really excited and cannot WAIT to get through this course. (Yes, I'm in as well!)
Week 1: Amazon Kindle (Electronic)
In the first week, you'll receive a PDF document with information about publishing on Kindle. It is well-structured and easy to read and understand.
You'll learn how to open a Kindle account, what to do before you start, how to format your book, what to do about page breaks, and you'll even learn how to come up with great covers for your book. Finally, Di will show you how you convert your book so it's fit for upload to Amazon.
Maybe you're thinking: Why do I need to know all that?
Well, first of all, you have to format your book in the right format to have it accepted. You can pay others to do this step, or you can read through Amazon's guidlines (good luck!), or you can learn it from this course.
Second, a lot of the bad critics and low star ratings books get are caused by bad formatting, and it certainly is annoying to read a book that has an odd formatting. It ruins the reader experience. Don't let this happen to your book.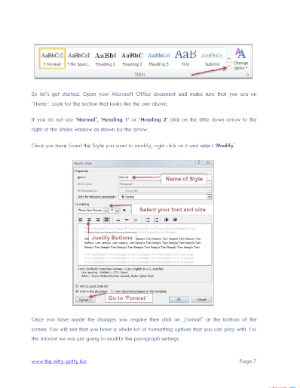 You'll get plenty of illustrations throughout the book, making it easier to follow and learn. You can see a small copy of one of the pages to the left of this text.
Good and Bad about Week 1 of Power Publishing
Nothing is perfect. This is really good. I like the way things are explained so it's very easy to follow the guidelines.
All the well-cut illustratons make it even simpler.
If I really should pick on something, it's the fact that Di uses Word, and everybody might not have this word processor. You will probably be able to use Open Office instead.
And personally, I'm not crazy about the second place she shows us for covers. Many are. I'm just not.
Conclusion of this Power Publishing Review
What I've read and seen so far has been really good and useful.
Tonight I'm getting the next assignment: Createspace. And I will write a review of that part tomorrow, if time permits.
If you want to become a power publisher and want to save some money and do it yourself instead of having to wait for some horrible Fiverr people to do it (or pay for quality which COSTS), then get in while the price is low: http://malka.im/e/dipp