Hi there 🙂 This review of Easy Paycheck Formula 2 is going to be long, since it's a course that has a lot of content. I'm going to cover it as well as I can, but there might be areas of no interest to you. In that case, just jump to the next area. You'll find an overview in the right hand column of this page and a bit further down here as well.
You can also click on the Kindle button to read on your Kindle or Smartphone.
Easy Paycheck Formula 2 will launch May 7. But Sara has set up a prelaunch with a huge discount, only for my subscribers, but only for a few days. I'll tell you more about that later and how you can get the prelaunch discount of 30%.
Click here to grab EPF2 with a HUGE discount NOW
I'll try to address every question you might have about this product, but if I don't hit them all, please feel free to ask in the comments.
Let's get started.
Background – Why Am I Reviewing Easy Paycheck Formula 2 by Sara Young
My first contact with Sara Young dates back to 2010, where she launched the first version of Easy Paycheck Formula. I got a review copy in good time before the launch, so I had time to test what she taught. I made one campaign, following her blueprint, but I didn't really think it would make me any money, to be honest.
It was so simple and easy… It just couldn't work.
To my huge surprise, it not only worked, but it did so fast and repeatedly. That little campaign that took me one hour in total to set up made money within a few days, and it keps making me a few dollars monthly and still does.
I believed then that Sara Young has one of the best products to teach you about affiliate marketing out there, and I've recommended it to a lot of people. Last year, when I noticed that another reader bought EPF, I contacted Sara to ask if she planned on updating her course. She said "yes", and here we are.
Sara Young is one of the marketers I trust. She has build her own business online, because she wanted to stay home with her seven kids, and she's doing what she's teaching. This is not just theory that might work, like I've seen from some marketers I no longer follow or recommend. This is a working blueprint.
In a few words: I'm reviewing Easy Paycheck Formula 2, because I know Sara Young and what she stands for, and I've made money with the predecessor.
What Is Easy Paycheck Formula 2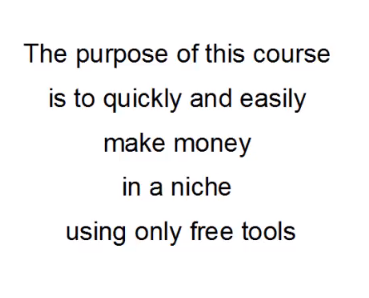 Easy Paycheck Formula 2 is a course that teaches you how to make money with free means. You'll learn how to pick a niche and a product. Sara uses Amazon in her examples, but you can use any affiliate network you want. If you want to sell Amazon products, but don't live in an area where you can do it, she shows you a brilliant work-around that I had never heard about before.
When you have the niche and the product, you need to tell people about it, and you can use a number of different places to do that. Sara shows you how to use Squidoo for that purpose, but if you don't want to do that, you can use Hubpages, Blogger, Zujava, or even your own blog.
The present Squidoo situation: When Sara contacted me a few days ago to tell me that she was ready to launch, my first words were: It's a dangerous time for Squidoo products.
Yes, she said. "I know. But my students have been ok."
After reading and watching her material, I'm convinced that there should be no problems with Squidoo, as long as you write your own texts and don't use duplicate content.
I'm following Sara's guidelines at the moment, building a lens with her method, and should anything go wrong (which I don't imagine), then I can move the content to one of my own blogs. If you don't have a blog, you can move it from Squidoo to elsewhere, for example Blogger.com.
To summon it up: Easy Paycheck Formula is an affiliate marketing course that shows step-by-step how to pick a niche and a product that is almost guaranteed to make you money.
What Awaits You Inside the Member's Area
After you've purchased Easy Paycheck Formula 2, you are led to the member's area, and when you've logged in, you'll be able to see this welcoming screen.
The video will give you a brief overview of what you can expect, and Sara states the purpose of the course, which I find very important. Here it is:
The purpose of this course is to quickly and easily make money in a niche with only free tools.
You can see the table of contents, and within each part of the course, you get:
Over the shoulder videos.
Great and clear explanations of why and how.
A written transcript of the content.
Links to ressources, if necesary.
Sara says that if you're in a hurry and want to see immediate money, then you can skip some of the steps, but for a long term income, it's better to follow them all.
Cheating While Using the Easy Paycheck Formula 2
While I was working at the "pick a product" part, I noticed something funny about the way I worked.
I wrote down what Sara said and the criteria a product should meet. Then I decided on a product, and I tried to make the criteria fit 😉 Like if I'd chosen a square block, and the criteria was that it should be able to squeeze it through a circular hole, then I would just tend to skip the information I got about that not being possible.
When I noticed that, I went back and tried to be completely objective. No more squeezing square blocks through circular holes. I followed the blueprint like a good girl (ha!).
Sara shows you several different places you should test to see if a niche and a product would perform well. You're not going to waste time building lenses or blog posts about products that will not produce results.
It takes some time to go through these criteria, but I think it's well worth it.
A Real Life Case Study
Sara works through a case study while teaching this method, and it's really interesting to see that her lens is ranking among the top 20,000 at this moment, which is good, since it's now a very competitive product. She teaches you how you can come up with similar product choices.
Be warned that it does take a while to come up with a good product. But it's time well-spent.
After you've chosen a niche and a product, you'll need a review page. You'll see how to do that, in details again. And you'll also get instructions on how you can write your review so it will sell.
If you don't want to write the text yourself, you get the best instructions I've ever seen about how to outsource it. And no, Sara doesn't use iWriter here.
I really liked the way it was all laid out.
And then you need traffic. Here again, Sara shows you legal, ethical and great ways to get free, yet targeted traffic. You can use that part on your existing lenses and product reviews.
As you can tell from testimonials on the sales page, this method works. A lot of people are obtaining sales only a few days after they created their lens.
In a few words: Great content. Easy to learn from. Easy to follow. You get insight from a real life case study. And I love that you get both videos and transcripts.
What If You Don't Make Money?
As a beginner, you might think that even waiting a few days to know if you've done the right thing is long time. Give it some time, anyway. Start building your next lens or do something else.
If you haven't made money after a few weeks, Sara offers a help-desk, and she will help you. She's really dedicated to helping her students to success.
I also recommend you read one of the bonuses (all of them, obviously), but this one especially stood out, because Sara tells a story about a product she expected to make money, and her lens got good trafic, but there were no sales.
None!
Now, had she been a newbie, or if she hadn't know this product very well, she might have thought that it was simply a bummer. That was not the case. She did some research and found out what was wrong. Then she turned the situation to her advantage and made several thousand dollars within a few days. She explains it all in detail in the bonus document. I found it awesome!
But to summon this up: You're bound to make money following the Easy Paycheck Formula 2. If you don't, contact Sara and get help.
Easy Paycheck Formula 2 on Steroids
There's an upsale to Easy Paycheck Formula called "on Steroids", and I'm about to dive into that area now to check what you get.
First of all, there are a welcome video and then a link to the steps from the main course.
Step 3 are some really awesome tools like e.g. the "Tag Profit Maximizer" and the "Primary Tag Notifier". Tags are so important for your ranking and income, and these tools are really helpful.
You also get an updated list of high ranking Squidoo lenses, which will help you get more traffic to your lens (Sara has explained how in the main course).
And then there are monthly packages that will help you make money faster. The first is called Quick Cash Grab. And it's about a really quick method to setup a lens and piggyback on existing interests to make money with it.
"I Already Have Easy Paycheck Formula 1 – Should I Upgrade?"
If you already have Easy Paycheck Formula 1 from 2010, you might be wondering if it's worth it to upgrade.
Yes, it is. This is a completely new course, rebuilt from start with new criteria to find products and niches, new ways of reviewing, and totally new ways of getting traffic.
Get Easy Paycheck Formula 2 with a Prelaunch Discount Until Thursday Midnight EST
Sara Young has made a special deal for you, since you're one of my subscribers. For the next short time, you can get Easy Paycheck Formula 2 for a very low price. 30% discount. And she still offers the same guarantee and support.
After reviewing this product, my conclusion is that it's really, really good. I've been recommending version one for three years. I'll be recommending version 2 for at least just as long.